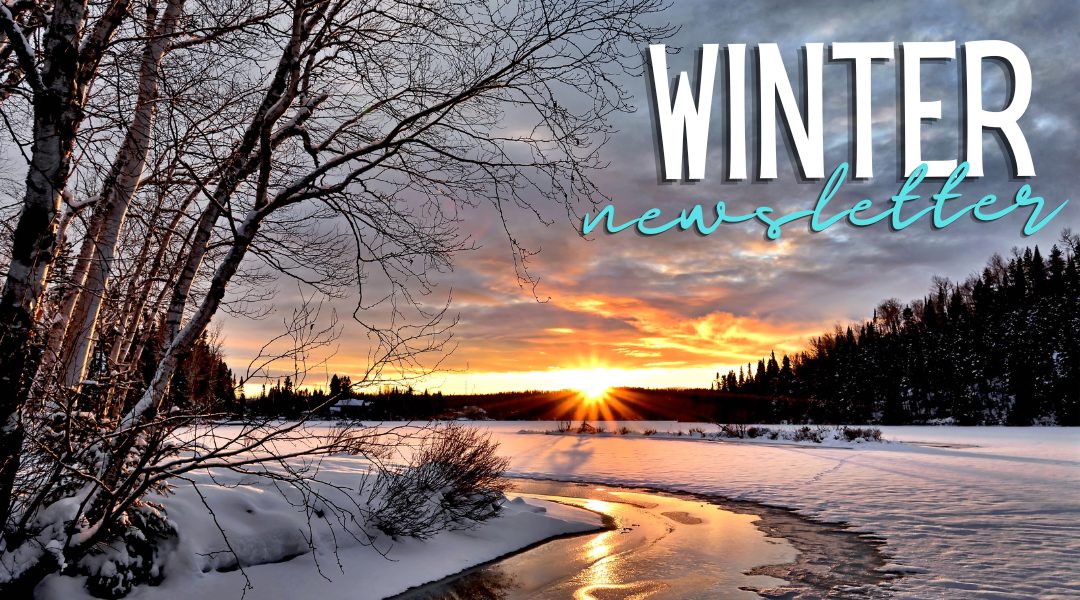 Don't listen to the media or at minimum take it with a grain of salt. The sky is not falling in real estate and it's still a great time to buy for most people and obtain the financial rewards of homeownership (if the facts and math are considered and you review all financing options). The primary difference in this market versus the last few years is the reprieve of a brutally competitive market for buyers. People paying $50k, $100k+ above appraised value out-of-pocket in many examples. Certainly, not something that we view as favorable with 15-20% appreciation rates that needed to be corrected. Inflation pressures on rates are bringing that correction to a more normalized or slowed appreciation rate. Affordability and analyzing all options compared to high-cost rents are the main factors today for those that plan to live in a new home for the foreseeable future. The ability to negotiate a fair market price, obtain seller concessions, and avoid the pressures of massive competition will help buyers today.
The amount of inventory in certain higher-demand areas will be a factor, as well as certain price points of each home. We have seen buyer competition picking up after the New Year, but still, nothing compared to prior years. The unknowns and the amount of inventory will determine what the remainder of 2023 will look like as we move into future years. The below candlestick chart of the 10-Year Treasury Note tracks the trends of mortgage rates. We believe we met the peak of inflation in late October and since that time rates have fallen over 1% and we hope that continues. This is also what has sparked many buyers to jump into the market today. The decrease in rates directly increases affordability.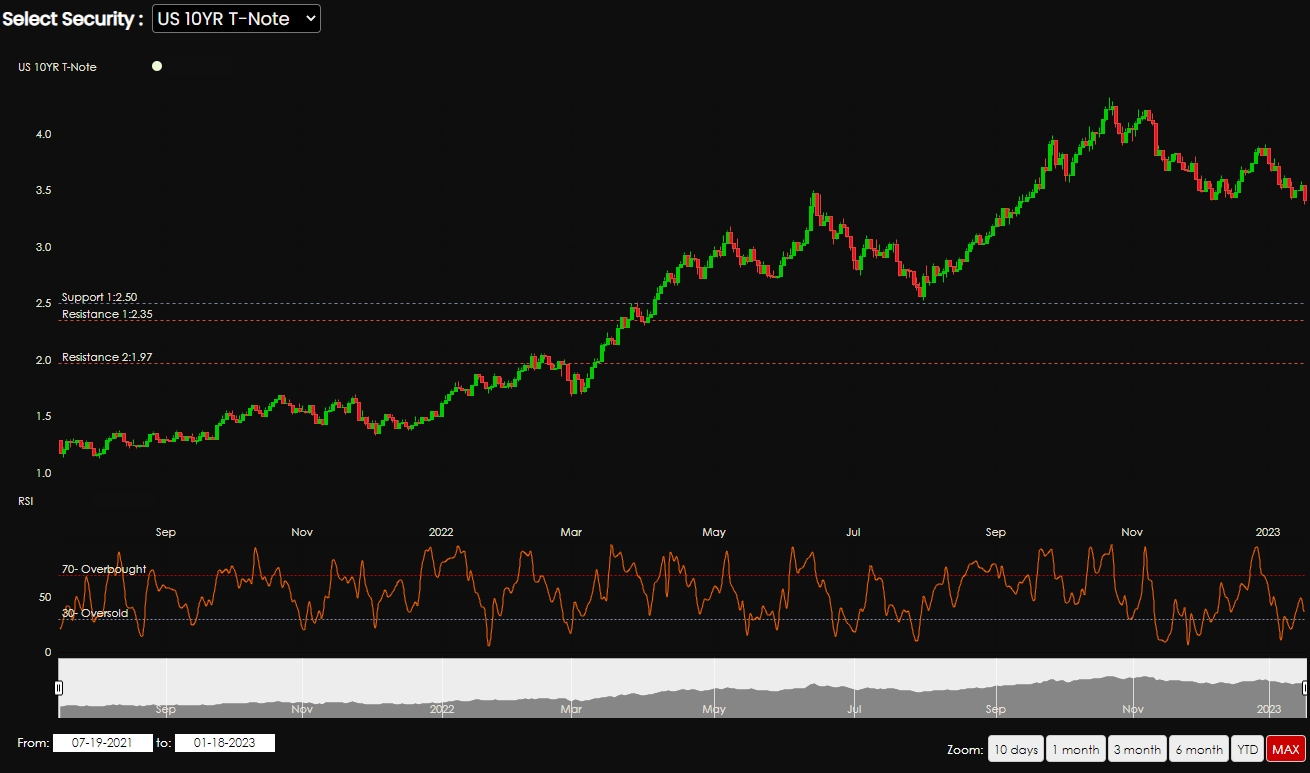 OREGON HOUSING MARKET OVERVIEW
What is the Oregon housing market like right now?
Buyer's Market. In December 2022, home prices in Oregon were up 0.8% compared to last year, selling for a median price of $474,900. On average, the number of homes sold was down 46.0% year over year and there were 3,096 homes sold in December this year, down 5,735 homes sold in December last year. The median days on the market was 43 days, up 21 year over year.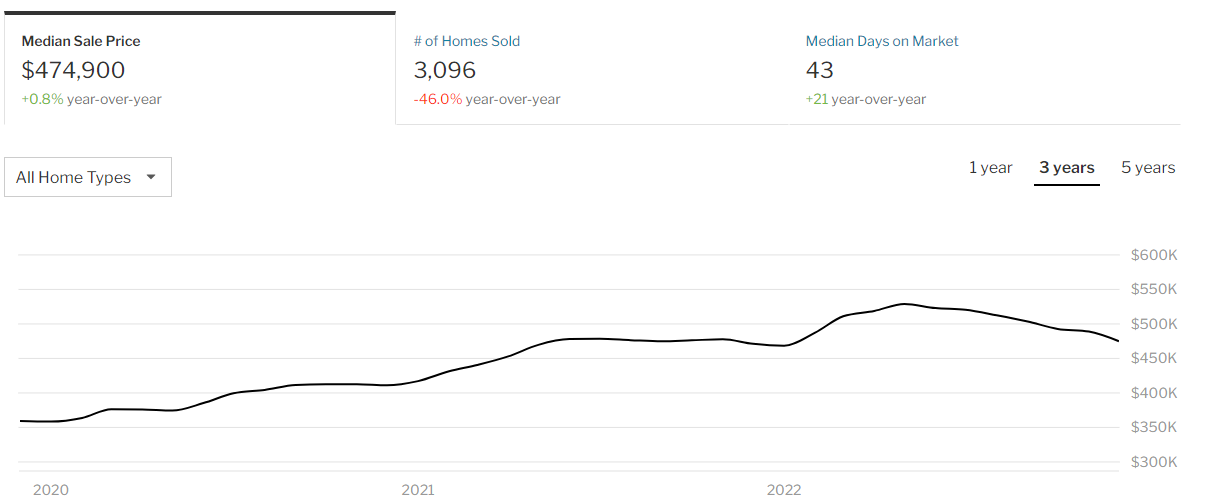 WASHINGTON HOUSING MARKET OVERVIEW
What is the Washington housing market like right now?
Neutral Buyer/Seller market depending on location. In December 2022, home prices in Washington were down 1.3% compared to last year, selling for a median price of $553,100. On average, the number of homes sold was down 46.5% year over year and there were 5,721 homes sold in December this year, down 10,691 homes sold in December last year. The median days on the market was 37 days, up 24 year over year.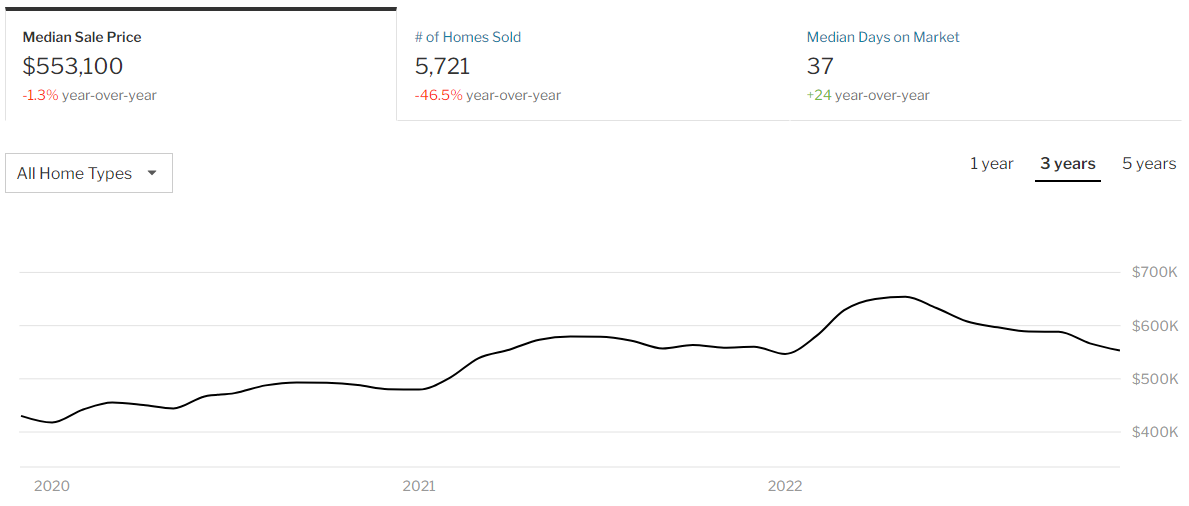 HAVE HOME VALUES HIT BOTTOM?
Whether you're already a homeowner or you're looking to become one, the recent headlines about home prices may leave you with more questions than answers. News stories are talking about home prices falling, and that's raising concerns about a repeat of what happened to prices in the crash in 2008.
One of the questions that's on many minds, based on those headlines, is: how much will home prices decline? But what you may not realize is expert forecasters aren't calling for a free fall in prices. In fact, if you look at the latest data, there's a case to be made that the biggest portion of month-over-month price depreciation nationally may already behind us – and even those numbers weren't significant declines on the national level. Instead of how far will they drop, the question becomes: have home values hit bottom?
Let's take a look at the latest data from several reputable industry sources (see chart below):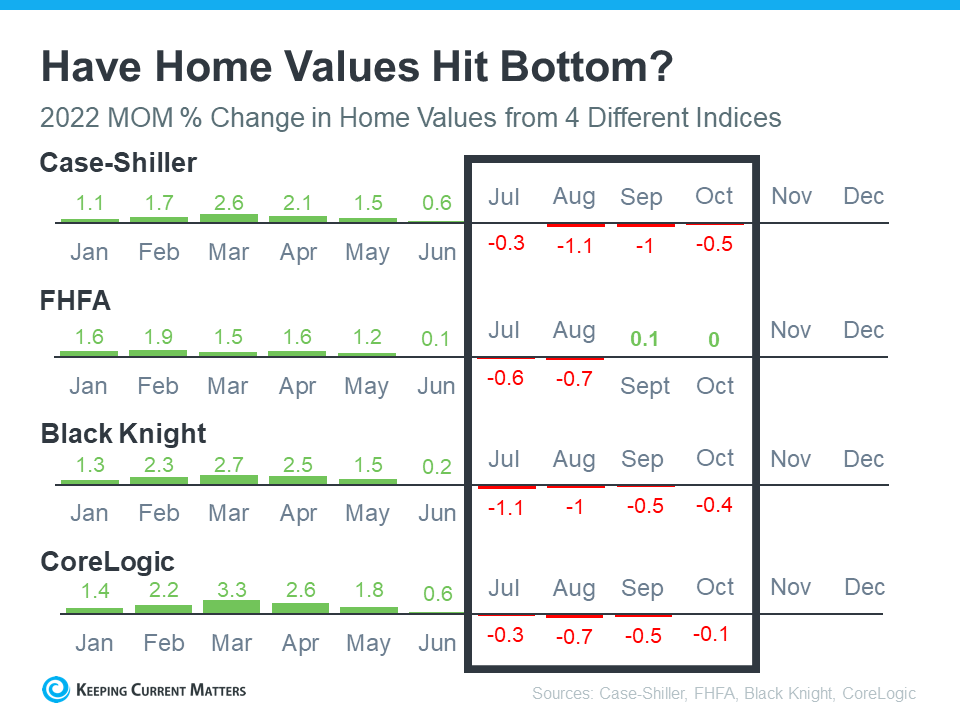 The chart above provides a look at the most recent reports from Case-Shiller, the Federal Housing Finance Agency (FHFA), Black Knight, and CoreLogic. It shows how, on a national scale, home values have changed month-over-month since January 2022. November and December numbers have yet to come out.
Let's focus in on what the red numbers tell us. The red numbers are the change in home values over the last four months that have been published. And if we isolate the last four months, what the data shows is, in each case, home price depreciation peaked in August.
While that doesn't guarantee home price depreciation has hit bottom, it confirms prices aren't in a free fall, and it may be an early signal that the worst is already behind us. As the numbers for November and December are released, data will be able to further validate this national trend.
Bottom Line
Home prices month-over-month have depreciated for the past four months on record, but there's a strong case to be made that the worst may be behind us. If you have questions about what's happening with home prices in your local market, reach out to a trusted real estate professional.
This video explains and shows examples of how shopping for your mortgage could save you thousands, or even tens of thousands of dollars. A must watch video for anyone looking to buy or refinance a home.
As an ongoing reminder, we appreciate each and every one of our past clients, business partners, friends, and family during this market transition for their ongoing referrals. 
Our fiduciary structure in the Pacific NW is extremely unique to shop and comparing the top wholesale lenders in the country to make sure they WIN in this market through shopping to get lower rates and fees. This can make a massive difference in the financial terms and outcome of a more competitive offer compared to so many that end up stuck with only one lender and no competition. 
Please continue to share our information with those you know that are looking to buy a new home.