Andy Harris, CRMS –

President
Serving Oregon & Washington clients
17040 Pilkington Rd Ste 300
Lake Oswego, OR 97035
Office: 503.496.0431 ext. 302
Cell: 503.880.2427
aharris@vantagemortgagegroup.com
"Thank you for visiting my page!  Below you will find my brief bio and other information for reference.  Whether you were referred by a family member, friend, or possibly found us through our online reviews and content, I surely look forward to speaking with you.  I am blessed to have such great clients and I work hard to provide an unmatched level of service from application to closing.  I am very analytical and detail-oriented by nature and I try to allow these gifts to strengthen the experience my clients receive during the processing of their new loan.  It's very important to me that my clients make educated and intelligent financial choices when reviewing their loan options.  I am here to make the process smooth, fast, and easy and I'm flattered by the feedback and referrals I've received.  This motivates me to continue to make a difference in this industry!  Again, thank you for visiting my site and I hope to speak with you soon!"
Born and raised in Portland, Oregon, Andy Harris is a nationally recognized Mortgage Professional who started his career back in 2002 after spending several years showing interest in real estate and finance. Andy's prior experience in business management and client relations brought him success his first year becoming the highest annual producing Loan Officer in the Western Region. Andy earned many awards as a young Mortgage Professional including the President's Million Dollar Club and Leadership Council for Outstanding Achievement.
From the impact Andy made over the years and positive response from clients and colleagues, Vantage Mortgage Group was created. Headquartered in Lake Oswego, Oregon, Vantage Mortgage Group is structured by strong systems, compliance, and the ethical standards Andy and his partners have been known to uphold. With the recent lending and economic changes, Andy knows it's extremely important to be up-to-date with every detail and continue to be a trusted adviser to his clients. Vantage Mortgage Group was established with a clear vision and position in this ever-changing and misunderstood industry.
Andy was the 2010-2012 President for the Oregon Association of Mortgage Professionals and later transitioned to the national level with NAMB, the Association of Mortgage Professionals.
Andy served on the Executive Board with NAMB and held position as Treasurer of the Association and Chair of the Finance Committee.  For several years, Andy has traveled to Washington DC to meet with our State Representatives and Senators along with Federal regulators as a voice for the mortgage industry.  He is best known for his outspoken articles written in various national publications on important and relevant industry topics that affect the consumer, as well as monthly motivational and business-building articles for the industry.
Prior to the mortgage industry Andy was a Personal Trainer and Operations Manager for a large fitness corporation and also a competitive bodybuilder. In 2000, Andy took 1st place in his division at the NPC Northwest Bodybuilding Championships at the Portland Art Museum. Andy currently lives in West Linn, OR with his wife Janel and two daughters, Halle and Kaelynn. In his spare time Andy enjoys spending time with family, hiking, camping, biking, snowboarding, weight lifting/fitness, and other activities.
6 Time Voted National Mortgage Magazine's
40 Most Influential Mortgage Professionals Under 40

– NAMB, the Association of Mortgage Professionals 2012 Mortgage Professional of the Year Finalist.
– Chosen as Mortgage Professional America Magazine's Hot 100 – the national power players that shake up the industry and change the way originators do business.
– 6-Time Voted as National Mortgage Professional Magazine's "40 Most Influential Mortgage Professionals Under 40"
– 2013-2017 Executive Director/Treasurer | NAMB, the Association of Mortgage Professionals
– Consistently in the Top 1% of Mortgage Originators in America
– 2012-2013 Director | NAMB, the Association of Mortgage Professionals
– 2010-2012 President | Oregon Association of Mortgage Professionals (OAMP)
– 2010-2011 Recognition of Fine Leadership – Oregon Association of Mortgage Professionals (OAMP)
– First Loan Originator in Oregon to obtain the NAMB Lending Integrity Seal
– NAMB Certified Residential Mortgage Specialist (CRMS)
– President/Founder, Harris Property Development, LLC
– Licensed under the SAFE ACT, Nationwide Mortgage Licensing System (NMLS) # 124161
– 2004 Leadership Council for Outstanding Achievement- Atlantis, SCI Services, Inc.
– 2003 President's Million Dollar Club, SCI Services, Inc.
– 2001 President's Invitational Excursion- Las Vegas, BTF
– 2001 Elite Performers Convention- Las Vegas, BTF
– 2000 Recognition of Excellence in Operations and Management, BTF
– Author of "The Elite Performer" featured in National Mortgage Professional Magazine.
– Published Author and featured in: National Mortgage Professional Magazine, The Niche Report, Scotsman Guide, What You Need to Know Before Buying Your First Home, and more
– Featured in various media (TV/Print) outlets as an industry expert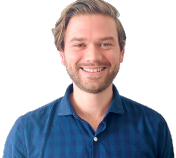 Michael Young
Mortgage Broker Assistant, NMLS # 1929933
17040 Pilkington Rd Ste 300
Lake Oswego, OR 97035
Office: 503.496.0431 ext. 321
Mike was born and raised in Farmington, Connecticut where he graduated with a degree in Economics. His interests in finance and real estate led him to purchase his first investment property, a foreclosed home in a suburb of Hartford, Connecticut. 
After finishing school, Mike was ready for a new adventure. He decided a change of scenery was in order. He sold his home and used the proceeds to go on a cross country road trip to start a new chapter in his life in San Diego, California. In San Diego, Mike started his first job in the Mortgage Industry. While working with his mortgage team in operations, he realized that helping people achieve their goals of owning a home and financial stability was something he cared passionately about.
Once again the need to explore something new arose. Mike quit his job and headed to South America for a backpacking adventure. Starting in Colombia, Mike traveled down the continent of South America by plane, bus, boat, ferry, car, and sometimes even foot.  His journey took him from the jungles of Colombia to tops of volcanoes in Ecuador, through the high altitude cities of  Peru to the Uyuni salt flats of Bolivia, landing in Chile to cross off one of his bucket list items of backpacking through Torres Del Paine National Park in Patagonia. Concluding his trip with visits to Argentina and Uruguay, he had traveled over 6,000 + miles. 
Returning to the United States six months after he departed, Mike knew it was time to move on from San Diego and find a place to plant some roots, and that place was Oregon. Always drawn to the allure of the wildness of the Pacific Northwest, Mike relocated for another adventure and a place to call home.
Knowing that he wanted to return to his passion for helping others better their financial future, Mike was grateful to find and join the team at Vantage Mortgage. 
At Vantage Mortgage, Mike looks forward to creating a network of passionate people, providing excellent service to everyone he meets and continued growth as a professional and person.
Complete this form or give me a call to get your free customized mortgage rate quote.
No Obligation.  No Hassle.  No Cost.
"Andy and his team were beyond excellent! He was always in communication about every step of the process, even when he was out of the office. He really knows the business and was really honest and upfront about everything. When it came time to close the team was so efficient that when we asked to close a few days early, they exceeded our expectations and closed over a week earlier than our initial date. They made this whole process a breeze and it makes me comfortable recommending them to anyone looking for their services." – Kaviny Man 

"They are the best! Andy and team helped me with a refi and were on top of it ever step of the way. I have and will continue to refer them to everyone who has mortgage needs." – Stephanie Macy 

"Andy Harris is one of the most stand up guys I have known in the mortgage industry. He really has the borrowers best interest in mind and with his expertise he always goes the extra mile for his clients no questions asked. If you get the opportunity to work with his group I highly recommend." – Michael Pamula 

"Andy Harris and his team are amazing! He is always quick to respond and walk us through all of the questions and data. He makes the process so seamless. We have worked with Andy on both of our home purchases and I would continue to work with him again. On this most recent purchase he was able to close in under 20 days!!! I highly recommend working with Andy and his team!" – Krista Rosebrook 

"Just moved into our house, thanks to Andy Harris and Vantage Mortgage Group. I don't think Andy sleeps! He was always ready and willing to run the numbers for us on a variety of houses that we looked at over the course of a few months. He was an excellent communicator with very quick response times, which made our home purchase as smooth as possible. I will definitely be using Andy again for any future real estate deals." – Joseph Milton 

"Andy was great to work with during our house search. His responses were prompt and clear when we had time sensitive questions, and he kept us up to date with rates quotes every time we asked – and his pricing sheet was always easy to understand. Our close went smoothly and we are very happy to have worked with Andy." – Luke Winikates 

"Our real estate broker told us about Andy and we're so glad she did! We were first time home buyers and had been working with another company and didn't know that it's normal to get quotes from more than one company. Our quote from Andy was so much better than what we had received from the other company- we were kinda blown away at the savings. We were also using a VA loan, and Andy's expertise made the entire process easy to understand. When I emailed him questions he was very prompt to reply, and incredibly friendly. He took the intimating factor out of our first mortgage! Their website was also really easy to navigate. We can't recommend him and Vantage Mortgage highly enough!" – Krista Hagel