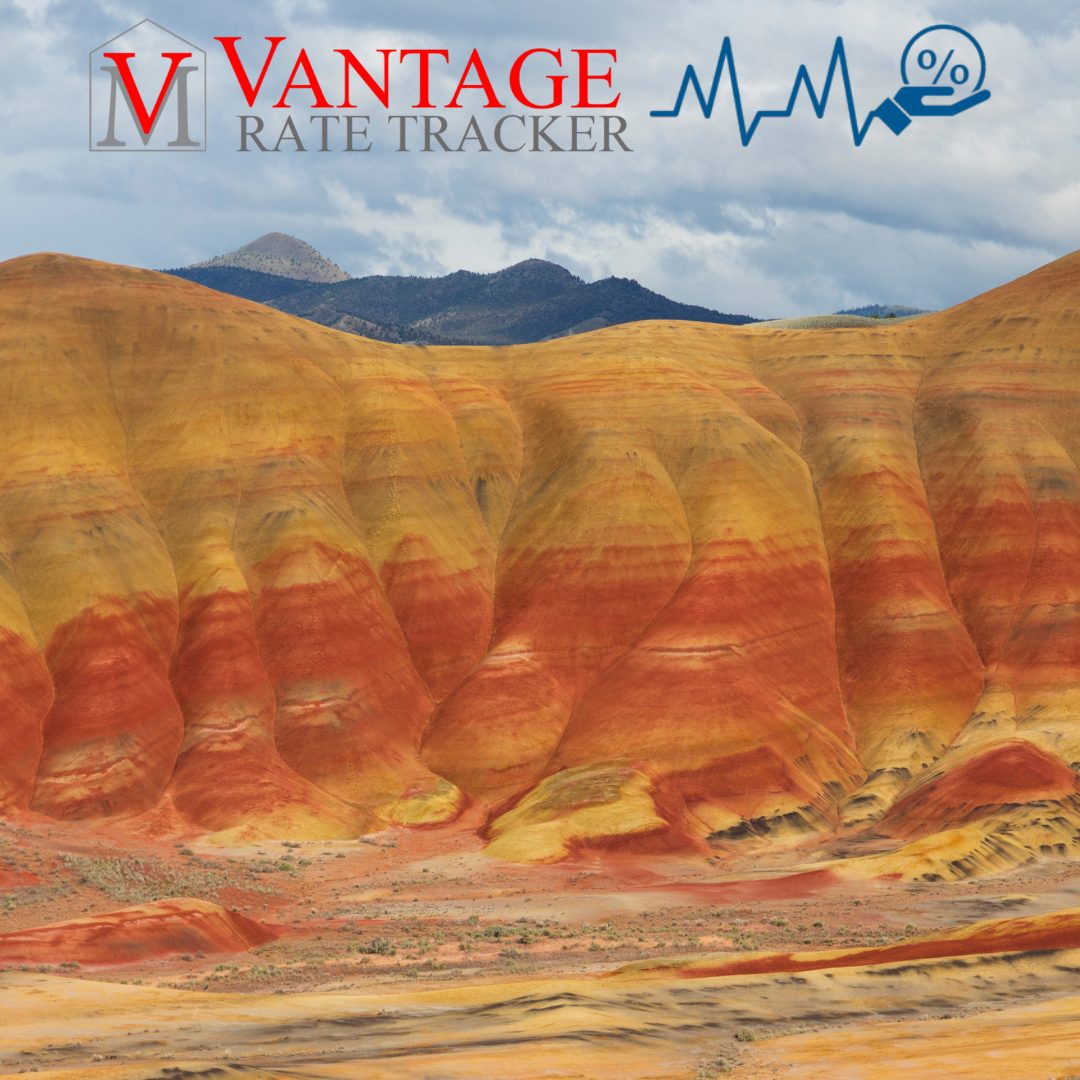 Vantage Mortgage Brokers – Weekly Interest Rate Tracker 07/27/2022
Vantage Mortgage Weekly Interest Rate Tracker
DATE: Wednesday, July 27th, 2022
TIME:  2:35 PM PST
STATES:  OREGON & WASHINGTON
CHANGE THIS WEEK: IMPROVEMENT (since last Wednesday with daily volatility)
SUGGESTION:  The Fed today announce (as expected) a 75 basis point (0.75%) increase in rates.  This doesn't directly impact 'mortgage rates directly but creates market and investor reactions that actually dropped rates slightly today.  Mortgage rates are lower than in previous weeks and we will continue to monitor economic trends and recession figures.  We suggest carefully floating or locking if in contract to buy, but discuss the details with your VMB contact for any questions and scenarios.
MONTHLY PAYMENTS: This reflects Principal and Interest (P&I) on Conventional and also including PMI on FHA. Taxes and insurance not included, but need to be factored in housing payments and budget as these can vary by property. A VMG Mortgage Broker can run an analysis anytime by request.
Fixed Rate Pricing Options*
(rates subject to change)
LENDER CREDIT (BACK TO YOU) BASED OFF % OF LOAN AMOUNT
To apply to any 3rd party closing costs or prepaids
OPTIONAL BUY DOWN BASED OFF % OF LOAN AMOUNT
*Monthly Payment amount below does not include taxes & insurance.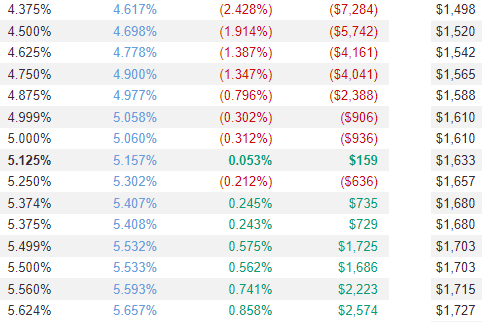 *Monthly Payment amount below does not include taxes & insurance.

*Monthly Payment amount below does not include taxes & insurance.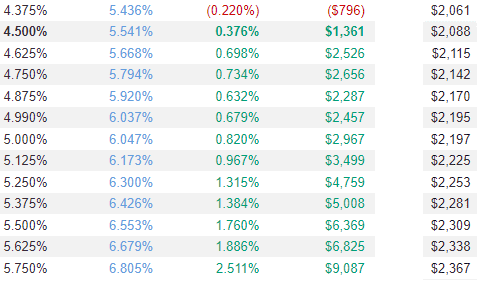 *Rates change daily. Conforming conventional interest rate samples based off $375,000 purchase price, $300,000 loan amount, 80% Loan to Value, 740 or higher FICO score, with impounds on a 30 day rate lock period and $995 underwriting fee if not covered by lender rebates. FHA based off $375,000 purchase price, 3.5% down payment, but other same variables. Costs or credits shown pertain to interest rate and do not include any other applicable 3rd party title and escrow charges or prepaid tax and insurance reserves which may or may not apply. Lock period suggested depends on current loan volume and lending climate at time of loan application and approval. Other risk-based pricing adjustment may apply. The displayed annual percentage rates (APRs) include total points and additional prepaid finance charges but do not include other closing costs. On adjustable-rate loans, rates are subject to increase over the life of the loan.  Learn more about assumptions and APR Information. Loan pricing may only be locked  through a home loan consultant to be effective. Rates will depend in part on your unique credit history and transaction characteristics. Please email or call for updated pricing at any time as rates and pricing are subject to change. Monthly payments include principal, interest, and PMI if applicable, but not taxes and insurance. This information does not constitute a loan commitment or approval.